10. Swings and roundabouts
Ups and downs
A few weeks ago, I was convinced I was in the midst of burnout.
Not tiredness, or feeling overworked, or stressed. It was definitely burnout.
A term that's been around for a while but that was made part of our everyday language by Anne Helen Petersen's viral article about millennials for Buzzfeed, it's tricky to define. Psychology Today say that burnout is "an extended period of stress that feels as though it cannot be ameliorated". The Merriam Webster dictionary calls it "exhaustion of physical or emotional strength usually as a result of prolonged stress or frustration". The WHO (World Health Organisation) now refers to burnout as a "syndrome conceptualized as resulting from chronic workplace stress that has not been successfully managed".
Funny then, isn't it, that I would think I'm suffering from burnout when I had been furloughed for months, and then made redundant, when the condition seems so inextricably linked with our work. I have been picking up some freelance bits over the past couple of months, but nowhere near the level of what we would normally consider a full time work week.
All I know is, my enthusiasm for literally everything dissipated. I couldn't concentrate long enough to read more than a tweet. I couldn't bring myself to watch any films or shows on telly - a major red flag for me, given that is normally how I help myself feel human in times of trouble. Every job rejection I received sent me into a state of panic and depression. As for writing, I could barely bring myself to open a blank Google doc without my stomach swirling with nausea and my brain looking for an off switch.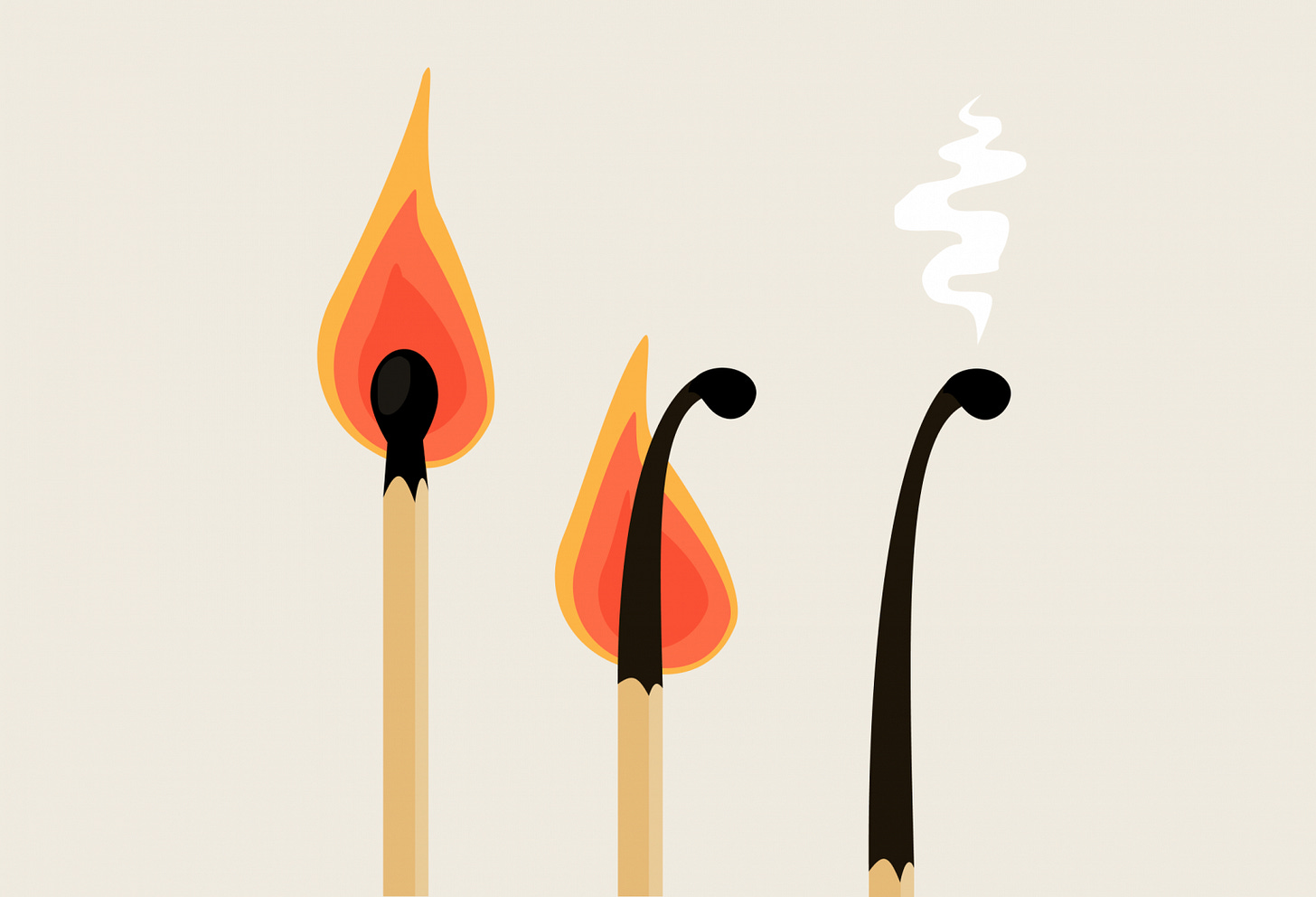 Everything became doom and gloom. Whilst I hadn't been clocking into a day job, I had been slaving away at cover letters and trying my best to find paid writing work and still helping to look after my grandparents and ruminating myself into the ground about where my next payslip was coming from, and what I should be doing with my time - and that's without thinking about, you know, the actual global pandemic happening alongside it all.
I tweeted about not knowing what to put in this newsletter; that my writing well had run dry. My aunty saw it and called me with a much needed pep talk. She reminded me of what I have managed to achieve over this time - how I got my first paid film writing commissions, how I'm a small but somewhat regular contributor to EMPIRE now, how I got my first poster and trailer quote, and how I've helped with nursing my grandparents throughout.
I was listening to a podcast the other day (I know I say that a lot, forgive me) called Hurry Slowly, by Jocelyn K Glai. Jocelyn was speaking to Debbie Millman, a super successful podcast host, author and designer. Debbie talked about how she 'metabolises' her achievements instead of recognising and celebrating them; how she consumes success like a sugary hit of Gatorade and then looks to the next, rather than slowing down and celebrating each win.
I felt that, deeply. I can say I've achieved literal childhood dreams in the past few months, and yet I've barely let them sink in. I've shared them on social media, got a dopamine hit from the likes rolling in, and then forgotten about them. Metabolised them. This is all a lesson that achievements don't give us the shiny new life we think they will, and it's good to have perspective about that, but also - it's alright to pat yourself on the back once in a while! To slow down and bathe in the glory for a little bit! To think - I really achieved something there! That small bit of success - I deserve it!
It's hard to say whether I have recovered from my burnout, though the fact I'm writing this to you tells me I am at least treading water instead of drowning in it. The fact I have started devouring films and TV shows again tells me that I'm feeling grounded enough in my world to get lost in someone else's. The fact that I start a new job on Monday tells me that yes, I can impress in interviews, and yes, I can find work that excites me.
I think I'm learning to stop thinking in absolutes. Things like, when I get published by *that* place, then I'm a Proper Writer. Or, if I stop creating for a while, I'll never start again. Or, where I am now is where I will be in five year's time. Or, if freelance work comes along, I *have* to accept it, even if the idea of doing it makes me want to peel my skin off.
Things like, my life is either all good or all bad right now. Chances are, it's both. It's ups and downs; peaks and troughs. Swings and roundabouts.
---
If you enjoy this newsletter and would like to support my work, you can now do so over on my Ko-Fi page. Or, you can simply share it. Either way, thank you for being here!
---
Growing Pains is written by me, Sophie Butcher. You can find all of my writing on my website. Follow me on Twitter too, if you like.
If you want to support my work on this newsletter, you can do so over on my Ko-Fi page.
If this email was forwarded to you, click here to subscribe.
Thank you so much for subscribing!