06. Balance
and stories I tell myself.
Just a few days before lockdown, I took part in a coaching session at work which included conducting a Harrison assessment. Similar to Strengths Finder or Myers-Briggs, a Harrison assessment is a kind of personality test that looks at your communication and leadership skills, as well as what your motivations, strengths and weaknesses are when it comes to work. 
Any type of exercise that reveals something about personalities and preferences is Extremely My Shit™, and I hoped to learn something about myself that I didn't already know. Though the results gave me pages and pages of graphs and rankings, and yet I don't feel like I got any real answers.
When chatting through my results with Graham, my boss's mentor who was leading the session, he said one thing to me that I haven't stopped thinking about since:
"You have balance in your life, and you're afraid of losing it."
His words struck a chord. When I first started my career, balance was way down on my list of priorities. I started working for a digital marketing agency in my final year of uni, and went full time with them after I graduated. The hours were long and the work was hard. I would get to the office early, pump out blogs and social media posts and design briefs and client updates all day, and then I would go home and do all that some more.
It was the culture, you see. Our leader aspired to starting a movement, and a new way of working, and being seen to be 'online' at all hours of the day was considered a sign of working hard. The months passed and the workload became more intense. Eventually, cracks began to show in our foundations, and I had to do twice as much just to make sure our clients didn't see them. 
I downed Red Bull every morning in an attempt to give myself energy for the day ahead. I got takeaways most nights, because to stop and cook was to waste precious time. My disordered eating got worse. My depression started to reveal itself. My shoulders hunched and my chest tightened with the anxiety of it all.
I learned a lot from that job - some of it enlightening, but most of it was just an example of what *not* to do. When I left it to go freelance, I enjoyed the fruits of my unbalanced life for a while - clients, big contracts, money coming in - but it didn't last long. I craved stability, less pressure, and the ability to switch off.
And so, since then, I have gotten comfortable. One of the best things about my current job is the relaxed culture, and the encouragement to put work away when the clock strikes 5pm. 
I have some friends - not too many - and I tell myself that I leave the house enough because I go to netball a few times a week (well, I did, in the 'before' times). I tell myself it's okay to stay home and barely move all weekend because I've worked hard in the week, and I deserve to rest. I tell myself it's okay I haven't gotten any paid writing work yet, because I'm taking my time.
I tell myself that it's okay to still be at the mercy of my mental ill health - that I don't need to challenge myself to go to therapy or actually try to get better - because I seem to get through the day mostly okay, and when I don't I have the space to cry myself to sleep, and that's alright, isn't it?! A person can get through their whole life feeling that way, can't they?!?
Maybe all these things are true, or maybe they're just stories I tell myself to make it easier to maintain the supposed harmony in my life.
I am a Libra. Whilst I don't necessarily believe in astrology, I don't necessarily *not* believe in it either. I have all the typical traits associated with the sign of the scales: likes beautiful things? Yep. Indecisive? Big yep. Diplomatic? Yeah, I reckon so.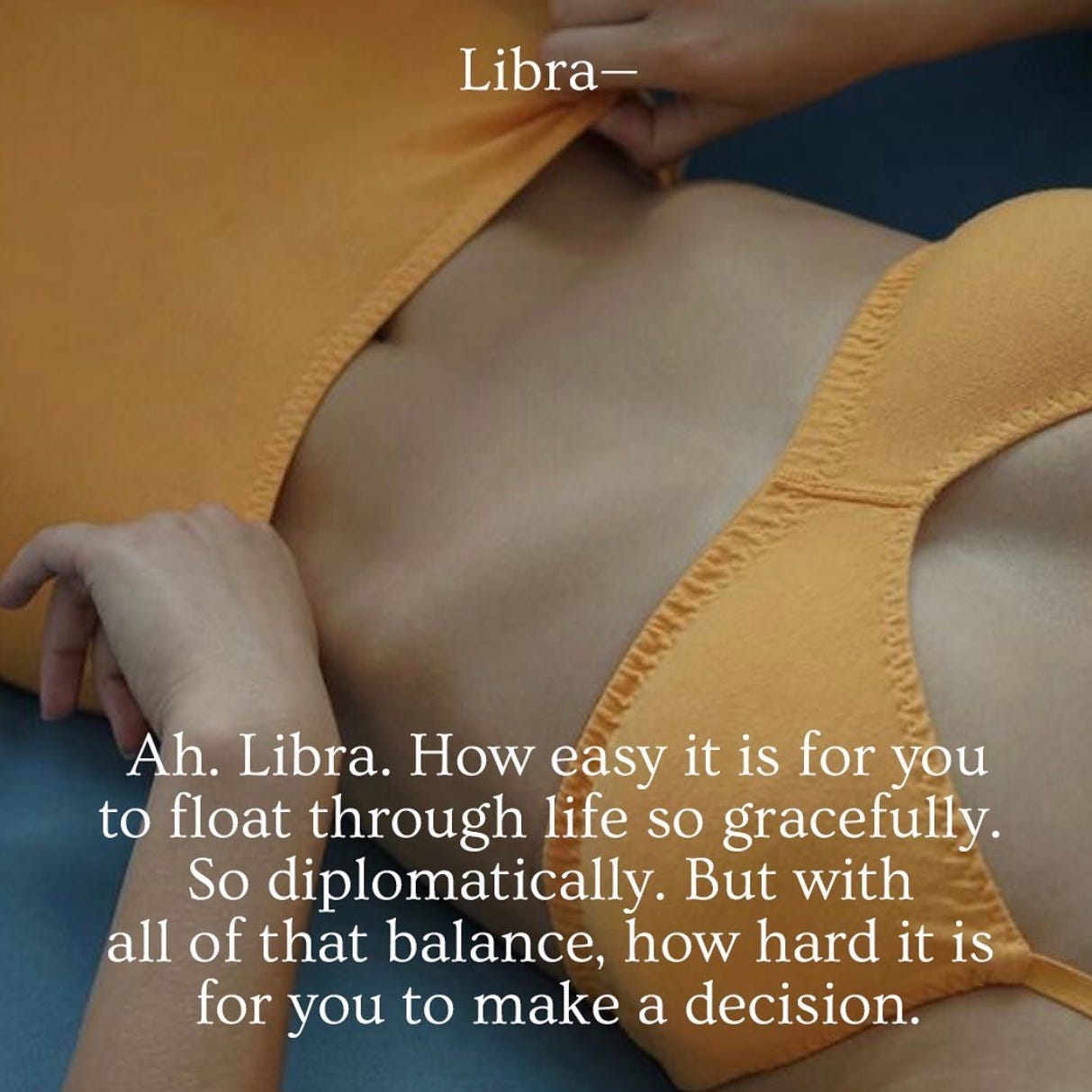 They say that Libras are obsessed with finding balance, but to tip the scales in either direction is to cause chaos. I have a kind of quiet, sedentary balance in my life, and I'm terrified to make those scales swing. It might only be the facade of balance, resting precariously on my fragile mental state and unwillingness to face up to myself, and with the world as I know it seemingly crashing down around me - but it is balance all the same. It has gotten me this far.
But what got me here won't get me where I want to be - wherever that is. Perhaps my constant sense of frustration and indecision is starting to outweigh my fear of rocking the boat. Perhaps it's time to shake things up. Perhaps it's time to start pushing myself again - to let the scales sway for a while, if only to see what happens when they align again. Perhaps I need to get a little uncomfortable, and learn how to manage that discomfort better. 
I can't do much at the moment, other than sit in my garden and talk to next door's chickens through the fence and write these letters to you, as I am right now. How cruel to be given so much time to contemplate our existence, but so little power to do anything to change it. 
Life shouldn't always have to happen outside our comfort zones, but maybe it would do me some good to get out of mine.
---
Recommended:
Brene Brown has launched a podcast called Unlocking Us, and the episode with Glennon Doyle is so good that as soon as it finished, I listened to it again. I can't wait to read Glennon's book, Untamed.
This GQ profile of Robert Pattinson emerged this week and it might be the most chaotic thing I've ever read.
If a surprisingly feminist comedy about a group of girls trying to lose their virginity sounds like a great way to spend your evening, allow me to point you in the direction of Blockers, now streaming on Netflix.
I've used Marvel films as a cinematic comfort blanket many, many times. This is a lovely piece from Hanna Flint on how the superhero movies helped her grieve for her grandmother.
A fascinating but concerning read on body image in young boys, and the rise of the 'ripped teen'.
Watching Skins is one of the most memorable TV experience of my adolescence - but comparing it to Sex Education shows just how far teen dramas have come.
An excellently written response to *that* announcement on Sunday. Stay home, folks.
---
Written by me:
The Normal People obsession continues. My piece on love, sex and power in this wildly intoxicating series went live on Flip Screen this week. Have a read, if you like.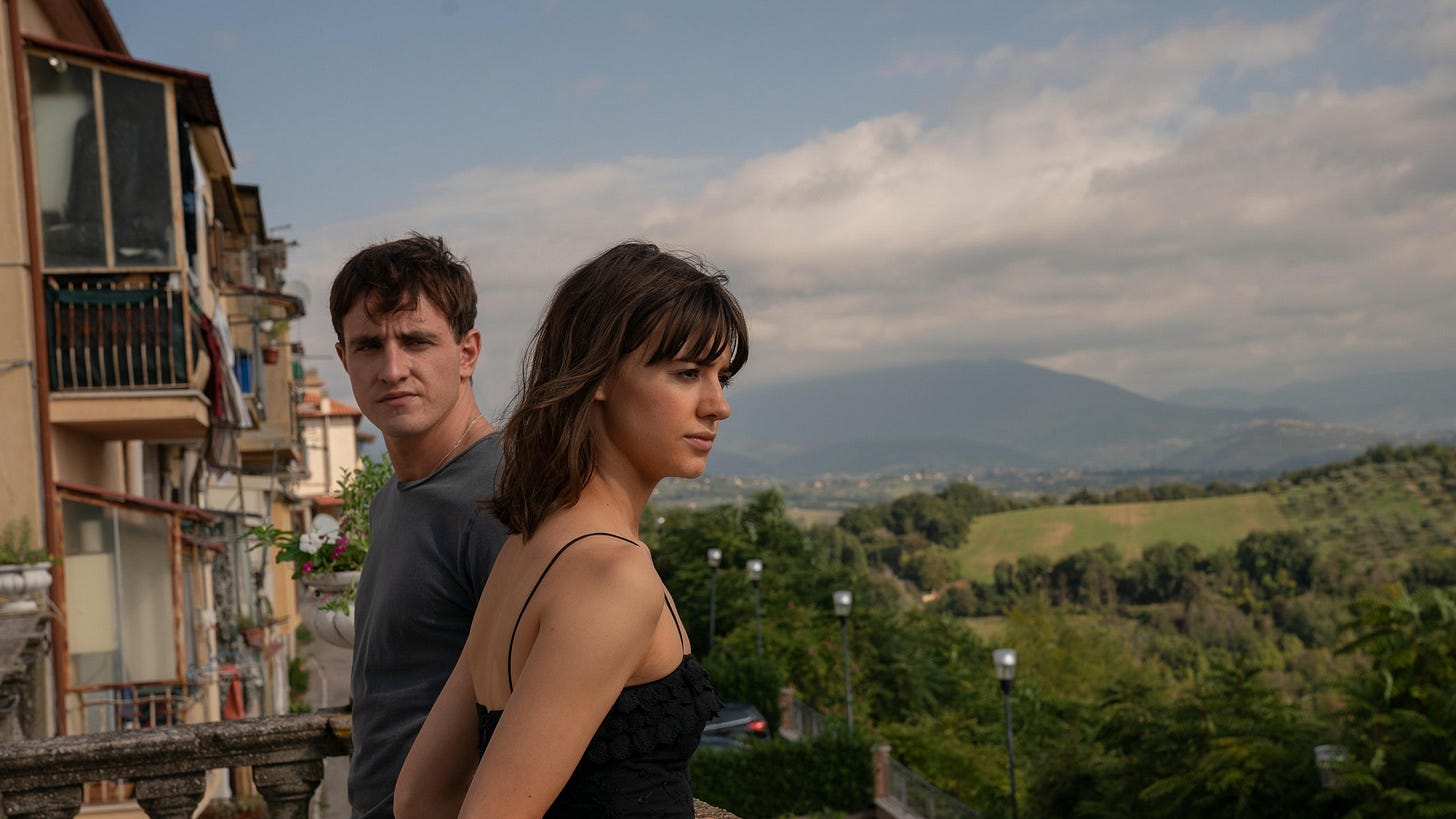 ---
Growing Pains is written by me, Sophie Butcher. You can find all of my writing on my 

website

. Follow me on 

Twitter 

too, if you like.
Thank you so much for subscribing!