04. On writing, and 'making it'
What if being good isn't good enough?
Twenty years ago, if you'd asked me what I wanted to be when I grew up, I'd have said 'a teacher'. My Aunty Sue always thought differently. "I always knew", she said to me once. "I knew that you'd be a writer."
I've long sought solace from my troubles through writing. Used prose and sentences and just the right adjective as a method of processing my feelings, of understanding the world. Where others might lay awake at night and have melodies or images or to-do lists floating through their brain, words flow through mine. Titles, concepts; that one perfect paragraph. 
I was an avid reader as a child. Other kids were probably grounded when they misbehaved, or had their toys taken away from them - I legitimately cried my eyes out when my grandma once decided that withholding my books would be a more fitting punishment. I relished English lessons, though my tendency for neatness often saw me wrap up a story prematurely just so it would fit on one page in my notebook.
I started my first blog in university. It was called Thursday's Child - because, as the old adage says, they have far to go. It was a hodge podge, with a pop-art style header; mostly beauty reviews with dodgy digital camera photos and runway reports from fashion week. There were also film reviews, and sometimes essays that related to what I was learning in my seminars.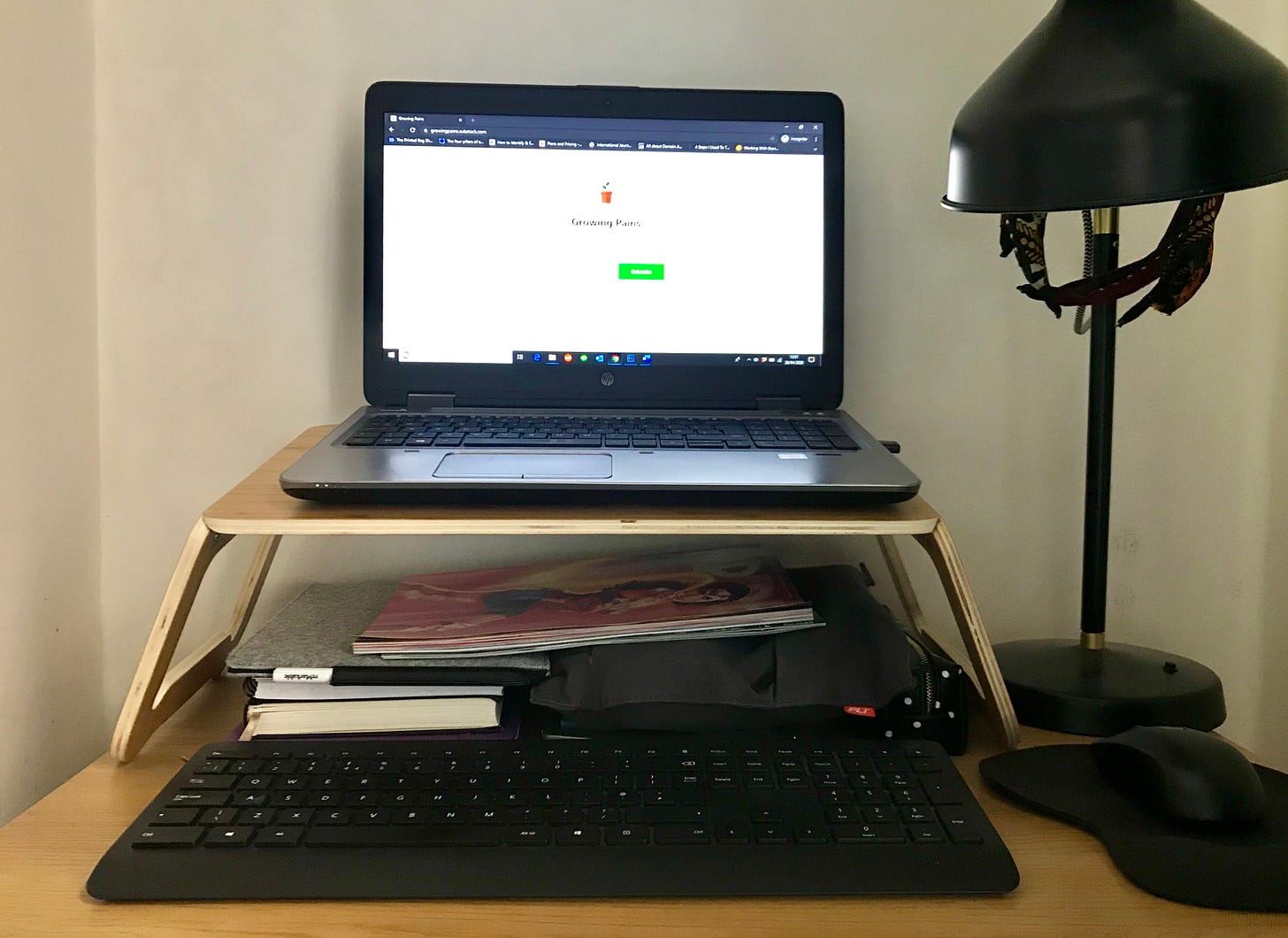 my desk, aka. where the magic happens
On January 1st 2020, I officially went part time at my job as operations manager at a print merchant. It was a measured decision, a calculated risk that I had taken when I'd asked for the reduction in hours at my appraisal months earlier. I've always felt like 'one day' I'd chase that dream of being a Writer, with a capital W. Turns out that 'one day' doesn't just show up at your door; you have to actually do something about it. And so I decided to make the leap, reduce my working week and spend the rest of my days writing - about film, mostly - and trying to Make It. 
It's been going okay. I've written a lot, probably the most I ever have. I've connected with new people, had my work shared in new places. I was accredited as press for my first ever film festival in Glasgow, and funded the entire thing myself - an investment in my future, I thought. A chance to experience press screenings, to broaden my knowledge of up and coming directors, to conduct my very first interview. It was going okay, and then a pandemic happened and cinemas closed and everything ground to a halt. Way to encourage me to chase my dreams, universe.
Living where I do, and with no prior connections in this industry, Making It seems nigh on impossible - not only logistically, but mentally. I am extremely proud of my work, but embarrassed by all the film criticism cliches I spot when reading it back. I know I have the core talent to make this my career, but trying to move closer to that goal feels like wading through a dark, murky swamp of imposter syndrome. I am not sure I can make it to the other side. 
What if being a good writer isn't good enough? Even if you put in the hours and watch all the movies and read all the best in the business and keep writing, always - what if this swamp is simply too big to cross? Talent is one thing and hard work is another, but this system is rigged, and that is way beyond my control. For every review I write, there is someone else doing the same - only they live in London, or have enough wealth in their family to do unpaid internships, or their dad is Boris Johnson, or they don't have to find time to watch films around a day job, or they're younger yet more experienced than me, or, you know, they're a straight white man. 
Not everyone I look up to benefits from these privileges, but they still exist in the industry at large, and make it all the more difficult to break into. I know there are people like me who have Made It - whatever that means - but what did they sacrifice along the way? I am 27, with no house or savings or safety net, and I'm not sure I can continue to pour so much energy into a dream that may never materialise. A 'starving artist' was never on my list of ambitions.
Liz Gilbert, author of 'Eat Pray Love', 'Big Magic', and all round extremely wise human, once said we should aim to be the verb, not the noun. So, instead of trying to be A Writer, I should simply write. By doing the verb, I become the noun. But this is different. For me, it feels like all or nothing, for even indulging in the merest morsel of this creative outlet which I love brings with it an all-consuming desire for it to be all I do, and an all-consuming frustration that it is not.
I should be writing for the love of it, not to seek any kind of reward or recognition. Instead, I write because I can't not. Sometimes, 'the love of it' is not enough; not for me. Maybe I was foolish to think a dream could be anything but that - just a dream, not a reality. Maybe being good just isn't good enough. But even as I consider all of this, I know, in my bones - I'll never stop trying.
---
Recommended:
According to this article, 'making it' as a journalist sounds like a nightmare I should perhaps be happy to have avoided.
What happens when a film critic loses the will to watch movies.
Laura Jane Williams is a writer, teacher, and someone I've greatly admired for years. Her latest podcast appearance on Is This Working made me stop in my tracks, and do nothing but sit and listen for 48 minutes. I long to possess her courage and clarity.
I stayed up way too late this week watching Normal People. It will break your heart, but it's worth it.
Once you've watched it, read this for some brilliant insight into how it was made.
A great piece about first-person newsletters, just like this one!
---
Growing Pains is written by me, Sophie Butcher. You can find all of my writing on my 

website

. Follow me on 

Twitter 

too, if you like.
Thank you so much for subscribing!